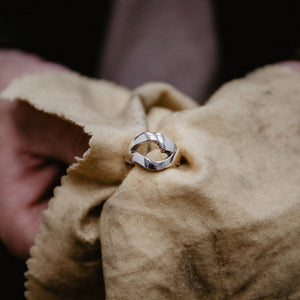 Sand Casting- Design and cast your own ring
Sale price Price $330.00 Regular price Unit price / per
Tax included.
Create a ring or small object using this ancient technique of Sand Casting. In this one day course you will learn how to first carve wax into a ring form, then prepare a sand casting mould and pour liquid Silver from a crucible into the sand mould.
The course will run for 5 hours total with a lunch break  from 10am - 3.30pm. 
 This first half of the day will consist of creating the wax ring form from traditional wax carving and then mould making with delft clay.  Then after lunch you will pour the silver and lean to how to file, sand, stamp and polish your piece. You will be taught how to work with the sand and correct preparation of the mould.
15grams of Silver will be provided to use for the casting of your piece. If you would like extra this can be provided for an additional cost.

The class will be for 4 students maximum and will offer clear instructions on the best type of designs and all the tips for successful casting. I will take you through how to correctly finish your casting from raw to high polish finish, this is very useful if want to cast your own designs.